Ampaire powers air travel with environmentally-friendly, high efficiency electric power systems
Media Alert
Powering Innovation: Ampaire powers air travel with environmentally-friendly, high efficiency electric power systems
Proven aerospace power module solution from Vicor simplifies aerospace design and reduces time-to-market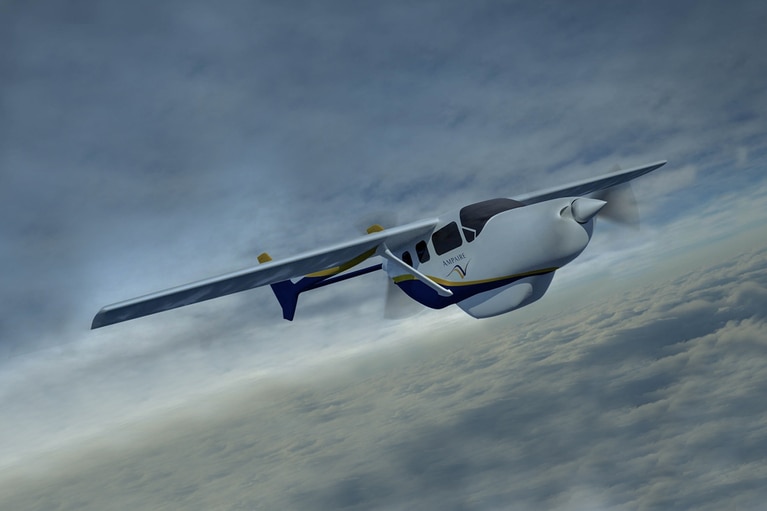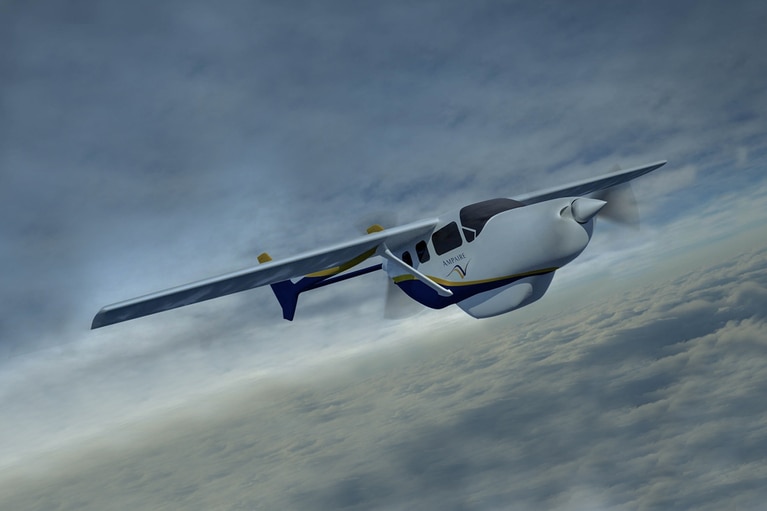 Escalating concern over rising carbon dioxide (CO2) emissions is driving worldwide demand for pure electric vehicle (EV) and hybrid electric vehicles (HEV). The airline industry is undergoing a similar evolution and is analyzing the cost/performance benefits of electric-powered aviation. If air travel infrastructure costs can be driven down, it becomes feasible to expand air travel to underserviced and/or remote geographies. With ubiquitous short-haul 'air taxi' services available across an increased number of regional airports and connection points.
Ampaire (Hawthorne, CA) is committed to realizing this vision, by developing electric aircraft that are environmentally cleaner, less costly, safe and quieter. Compared to traditional combustion engine-powered aircraft, Ampaire seeks to achieve a 90% reduction in fuel costs, a 50% reduction in maintenance, and a 66% noise reduction during takeoff and landing, with an all-electric aircraft with zero tailpipe emissions.
Switching to electric propulsion could expand airline destinations by 10X from 500 to 5000 airports in the U.S. alone. People living in remote areas will have far easier access to regional airline transportation, and regional airlines struggling to achieve profitability due to high operating costs will be well positioned to thrive going forward.
Greener, cleaner power for air travel
Ampaire is currently at the prototyping stage and has developed a dual power source architecture to enable redundancy during initial test flight scenarios, to evaluate and develop techniques for spreading the power and propulsion load across the fuel and electric power sources, based on payload, cruise speed and flightpath.
In Ampaire's current prototype – a retro-fitted Cessna 337 Skymaster –a standard combustion engine-powered propeller is located in the rear of the aircraft, and an electric-powered propeller up front, comprising an inline, parallel hybrid architecture. During flight, power can be dynamically shared across both propulsion systems to optimize for speed, power/fuel consumption and/or noise.
High-density power component solutions essential to rapid prototyping
The power delivery system for Ampaire's prototype plane consists of a high-voltage battery pack power source with a range of 500V to 738V. Typical avionic control and monitoring systems operate from a 28V supply, so a DC to DC converter solution that could operate from a wide range input and tightly regulate to a 28V output was required. Because of the high voltage battery, isolation is also necessary and a power rating of up to 500 Watts was desired.
Ampaire's design team also requested a small compact size for the solution, high efficiency, a simple thermal management solution and rapid prototyping and time to production. The design team also did not want to design or use circuit boards for the power converter. With these design requirements, Vicor's engineering team recommended that the power conversion and regulation be done in 2 stages, to optimize the efficiency and power density and to simplify thermal management A fixed ratio bus converter (BCM) would be used to isolate and down convert the high voltage battery, followed by a low voltage DC-DC converter to regulate the output of the bus converter to 28V.
The future of electric-powered flight
Ampaire is among the leaders in the electric-powered aviation market to fly an aircraft demonstrating commercial viability. Its prototype aircraft is slated for testing by Hawaii-based Mokulele Airlines, which hopes to employ next-generation, commercial-production Ampaire aircraft for short-haul flights across the Hawaiian Islands. Ampaire's future production of plane is expected to carry from nine to nineteen passengers and travel the 90 mile range from Honolulu to Kahului.
Learn more about Ampaire electric aircraft.
About Vicor
Vicor Corporation designs, develops, manufactures and markets modular power components and complete power systems based upon a portfolio of patented technologies. Headquartered in Andover, Massachusetts, Vicor sells its products to the power systems market, including enterprise and high performance computing, industrial equipment and automation, telecommunications and network infrastructure, vehicles and transportation, aerospace and defense. www.vicorpower.com
Vicor, Surface-Mount Converter housed in Package and BCM are trademarks of Vicor Corporation.
About Ampaire
Ampaire aspires to be the world's most trusted developer of practical, compelling electric aircraft. And we've built the team to get it done. Ampaire is making flying more accessible to more people from more airports by developing electric aircraft that are less costly, safe, clean, and quiet.