Vicor Extends 48V cool-power ZVS buck regulators family
Media Alert
Vicor Extends 48V cool-power ZVS buck regulators family
Vicor Extends 48V cool-power ZVS buck regulators family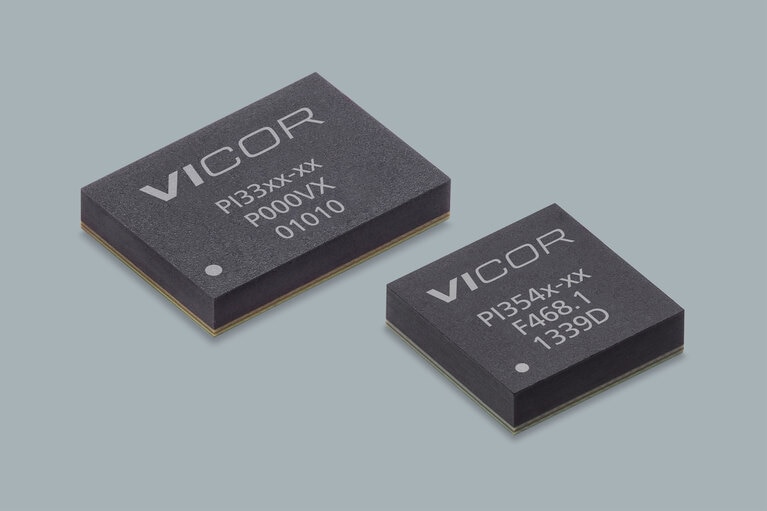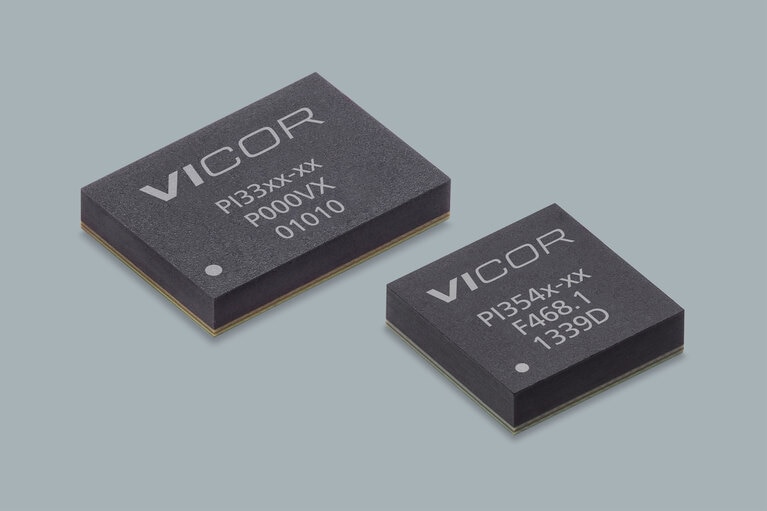 Vicor has extended the Cool-Power 48V ZVS 20A Buck Regulator portfolio by releasing the PI3523-00-LGIZ (PI3523). The PI352x family offers 20A solutions complementing the previously released 10A 48VIN PI354x family, enabling scalable power options for 48V direct to point-of-load (PoL) applications. The PI3523 is a 48VIN, 3.3VOUT nominal Buck Regulator capable of supplying up to 22A. This family of regulators enables 48VIN to 20A point-of-load voltages spanning 2.2VOUT – 14VOUT.
Compact Size Delivering Twice the Power
Offering all the same industry leading features of Vicor's existing 48V Cool-Power ZVS Buck Regulators, the PI352x portfolio extends performance by delivering twice the power of the PI354x regulators using only a 40% larger package. The PI3523 requires only an output inductor and minimal passives for a complete cost effective design that consumes less than 740 mm2 of PCB space. Designed to be easily paralleled in combinations of up to three regulators, the PI352x regulators can be scaled to support higher current loads.
Announced today and existing:
| | | | | |
| --- | --- | --- | --- | --- |
| Part Number | Package | Input Voltage Range | Nominal Output Voltage | Current |
| PI3523-00-LGIZ | 10x14mm | 30 – 60V | 3.3V | 22A |
| PI3525-00-LGIZ | 10x14mm | 30 – 60V | 5.0V | 20A |
| PI3526-00-LGIZ | 10x14mm | 30 – 60V | 12V | 18A |
| PI3542-00-LGIZ | 10x10mm | 36 – 60V | 2.5V | 10A |
| PI3543-00-LGIZ | 10x10mm | 36 – 60V | 3.3V | 10A |
| PI3545-00-LGIZ | 10x10mm | 36 – 60V | 5.0V | 10A |
| PI3546-00-LGIZ | 10x10mm | 36 – 60V | 12V | 9A |
Table 1 – Item in green is a newly released product.
The PI352x family addresses the growing need for 48V direct-to-PoL solutions in many applications including lighting, communications, automotive equipment, and datacenter applications. The Cool-Power ZVS Regulators are focused on high power density and high efficiency while delivering ease of use. The end result is first pass design success with best-in-class performance.
Learn more about these products at:
https://www.vicorpower.com/new-products/cool-power-zvs-buck-regulator
About Vicor Corporation
Vicor Corporation designs, develops, manufactures and markets modular power components and complete power systems based upon a portfolio of patented technologies. Headquartered in Andover, Massachusetts, Vicor sells its products to the power systems market, including enterprise and high performance computing, industrial equipment and automation, telecommunications and network infrastructure, vehicles and transportation, aerospace and defense. www.vicorpower.com
Power Component Design Methodology
Vicor's Power Component Design Methodology enables power system designers to reap all of the benefits of modular power component design – predictable component and system functionality and reliability, fast design cycles, and easy system configurability, re-configurability and scaling – while achieving system operating efficiency, power density and economy that rival the best alternative solutions. Utilizing Vicor's Power System Designer, engineers can select from an extensive portfolio of proven Vicor power components to architect, optimize and simulate their complete power system, all the way from their input sources to their points of load. This innovative approach to power system design delivers fast time-to-market and state-of-the-art performance while minimizing the possibility of last minute surprises and delays that so often occur with conventional or custom design methodologies.
Vicor is a trademark of Vicor Corporation.