New research reveals power engineers struggle with changes in requirements
Media Alert
New research reveals power engineers struggle with changes in requirements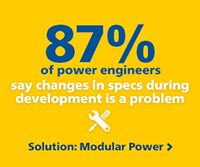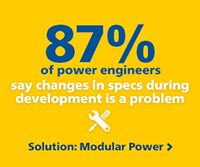 The biggest power design challenges identified by engineers are subsequent changes to the specifications after the design process has begun. According to research conducted by Vicor Corporation, 87% of power system designers around the world identified specificationchanges as the most frequent impediment in designing power systems.
"When creating power system designs engineers need to consider new, more flexible approaches in anticipation of specification changes." said Rob Russell, VP of Product
Marketing Vicor. "The Power Component Design Methodology enables engineers to easily swap out different components in their power design with minimal risk toward schedule."
The research also highlighted the challenge of meeting project timelines. 80% of power engineers are already struggling to meet time constraints when designing power systems
and 79% feel that project schedules are tighter, due to time-to-market pressures. Specification changes directly negatively impact schedules according to 65% of engineers.
About Vicor Corporation
Vicor Corporation designs, develops, manufactures and markets modular power components and complete power systems based upon a portfolio of patented technologies. Headquartered in Andover, Massachusetts, Vicor sells its products to the power systems market, including enterprise and high performance computing, industrial equipment and automation, telecommunications and network infrastructure, vehicles and transportation, aerospace and defense. www.vicorpower.com
Power Component Design Methodology
Vicor's Power Component Design Methodology enables power system designers to reap all of the benefits of modular power component design – predictable component and system functionality and reliability, fast design cycles, and easy system configurability, re-configurability and scaling – while achieving system operating efficiency, power density and economy that rival the best alternative solutions. Utilizing Vicor's Power System Designer, engineers can select from an extensive portfolio of proven Vicor power components to architect, optimize and simulate their complete power system, all the way from their input sources to their points of load. This innovative approach to power system design delivers fast time-to-market and state-of-the-art performance while minimizing the possibility of last minute surprises and delays that so often occur with conventional or custom design methodologies.
Vicor is a trademark of Vicor Corporation.
Contact
Alex Price
Marketing Manager, EMEA
Vicor Europe
+44 (0) 1276 678222
aprice@vicorpower.com