Dynamis PRC and Vicor solve power and weight challenges for electric car prototype
Media Alert
Dynamis PRC and Vicor solve power and weight challenges for electric car prototype
Innovative DC-DC converters help reduce race car weight while sourcing power from main battery to meet 12V power needs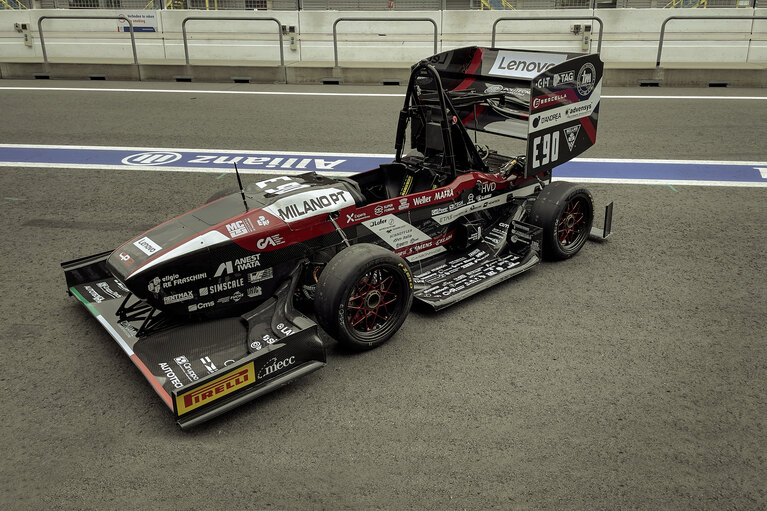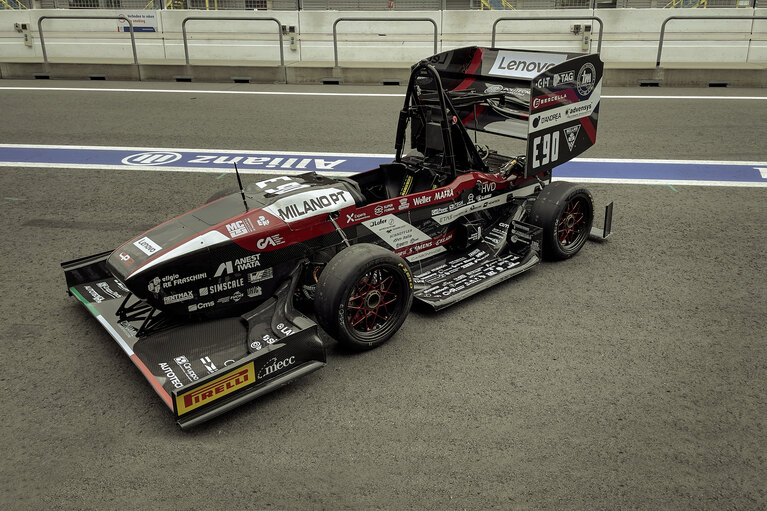 LONDON - Dynamis PRC, the Formula Student team of Politecnico di Milano, has over 100 students and the team designs and manufactures a racing car prototype every year, for racing in the international Formula SAE championship. After 15 years in the combustion category, Dynamis PRC has reached fourth position, and first in Italy, in the Formula Student Combustion world ranking.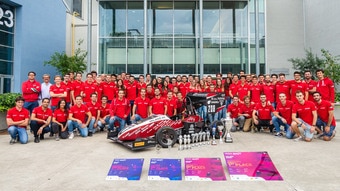 The team is now in the process of changing from a combustion engine to electric power, allowing it to make many improvements to the car's design and performance. Chief among these was weight reduction, going from over 20kg for the original engine, to four 3.5kg electric motors, one mounted on each wheel. Each motor is independently controlled to optimize both traction and braking performance.
One of the major new components was the accumulator, which comprised 660 Sony VTC6 cells to deliver up to around 550V.
To supply the vehicle's 12V low voltage power, a LiFePO4 battery was also included in the electrical system. However, this was found to have very low autonomy. To solve this challenge, Dynamis decided to use the existing 12V circuit, powered by the low voltage battery, to supply the on-board PCBs, sensors, and telemetry equipment.
Dynamis would then step down the voltage from the high voltage accumulator and extract 12V, using two DC-DC converter modules. This method would be used to meet the more demanding part of the low-voltage load, sourcing 600W – 50A at 12V – to supply the cooling fans and cooling water pump.
The DC-DC converter system had to be reliable, as a fault would cause the cooling system to stop, leading to an uncontrolled rise in motor and inverter temperatures. Weight and size were also key concerns.
Satisfies all requirements
After an extended search for suitable DC-DC products, Dynamis settled on Vicor's DCM4623 module, as it satisfied all their system requirements. The Vicor DC-DC converter module can operate in array mode, accommodating an input supply from the accumulator that ranged from 550V down to 330V as the batteries discharged during a race.
The DCM™ modules were well-documented and easy to use, but the team also found Vicor's help invaluable.
"As important as the product specification, we found in Vicor a partner that was willing to support our project by supplying us with their modules, and also assisting us in the design process," commented Marta Bragotto, Electronics and Powertrain - Logistics Manager. "They made their engineers available to us, along with excellent whitepapers and technical documentation."
Future plans include a dual low voltage system, with 48V for the cooling equipment, and 12V for all the onboard electronics. This system will use Vicor modules to convert the accumulator's high voltage down to 48V, with further modules to convert from 48V to 12V.
About Vicor
Vicor Corporation, the leader in high-performance power modules, solves the toughest power challenges for our customers, enabling them to innovate and maximize system performance. Our easy-to-deploy power modules provide the highest density and efficiency enabling advanced power delivery networks from the power source to the point of load. Headquartered in Andover, Massachusetts, Vicor serves customers worldwide with unequaled power conversion and power delivery technologies. www.vicorpower.com
Vicor and DCM are trademarks of Vicor Corporation.
About Dynamis PRC
Dynamis PRC is a Formula student team of Politecnico di Milano and started developing its first electric prototype in 2020. This car took part in four European competitions in the Netherlands, Hungary, Italy and Germany. The team won the Dutch and Italian competitions and reached third place in the FSG event. www.dynamisprc.com