Knightscope's autonomous security robot delivers breakthrough detection technology for public safety.
Media Alert
Powering Innovation: Knightscope's autonomous security robot delivers breakthrough detection technology for public safety
High-density power modules enable acute surveillance networks leveraging AI to deter crime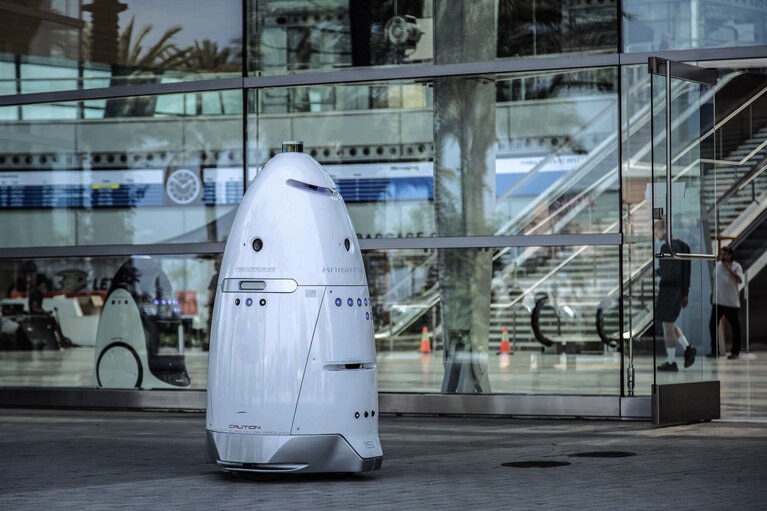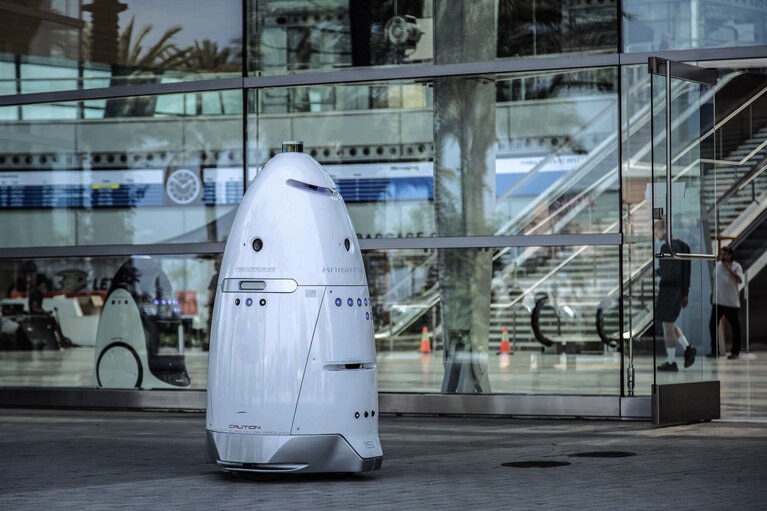 The concept of automated policing began as a science fiction concept years ago, but today it is real and impactful. The sophistication of robot-powered security is actually even more interesting if you spend a few minutes talking to Stacy Stephens, the co-founder and chief client officer of Knightscope, Inc.
Launched in 2013, the Mountain View, CA, public safety technology services company was the first in the world to deploy mobile, fully autonomous security robots (ASRs) in public spaces such as malls, parking lots and neighborhood parks. The Knightscope vision was to find a more effective means of deterring crime while minimizing risk to law enforcement officers.
Knightscope as a leading public safety tech company rather than a robotics organization with expertise in a fusion of robotics, self-driving technology, vehicle electrification and artificial intelligence. Combined, they yield an agile platform upon which numerous types of sensing capabilities and other technologies can be integrated to provide actionable intelligence.
Delivering superior ASR surveillance capability
ASRs are equipped to scan for known threats, allowing companies to reduce workplace violence by recognizing terminated employees or those who have been issued criminal trespass warnings. ASRs also provide parking lot security by using exception monitoring to ID the license plates of cars that don't belong on site. With their audio feature, ASRs provide two-way communication, allowing the robots to act as a public address system with broadcast capability. This enables them to engage with perpetrators to de-escalate hostile situations.
"The ASR's 'talk-down' feature takes the danger off the human and puts it on the robot," Stephens said. "Robots are a nondescript object that allow a conversation to take place without having a person in front of a hostile suspect that could unintentionally escalate the situation. They also lower operating overhead," Stephens added. "ASRs never get sick, and they don't take vacation."
Infusing technology to drive ASR autonomy
Knightscope's mobile robots are completely autonomous, using a system of LIDAR, GPS, sonar, IMUs, 4K cameras and high-fidelity audio. The robot has five sensor types (similar to humans) to manage its surroundings. In most cases, the robot's senses are more acute than a public safety officer's.
In all, 21 LIDAR lasers map the surrounding area every 25 milliseconds. That data is used to create a 3D map of the area around the robot out to a 100-meter radius, which enables the ASR to "see" its environment. Additionally, sonar sensors provide proximity sensing that allows the robot to tell when something is physically close. GPS is included as a tertiary input for internal navigation and helps track the machine if someone were to attempt to move or steal the robot.
Odometry sensors calculate wheel rotation to indicate if the robot is moving or tracking left or right. Finally, an inertial measurement unit, or IMU, provides six-degrees-of-freedom spatial awareness to determine if the robot is upright or tilted, which could signal it has become stuck or immobilized.
Power efficiency is paramount for ASRs
The intense level of computing, communications and sensing places a tremendous burden the ASRs' power delivery networks. They must be compact and have high efficiency. Because the ASRs have no airflow or venting, Knightscope went hunting for a pure conduction-cooled solution that could use the aluminum skin as a heat sink. The company adopted a Vicor DC-DC converter module (DCM3623) because its unique ChiP™ packaging was thermally adept and very small. The DCM's power density also helped with routing the wiring and cable assembly and increased battery efficiency, performance and runtime.
On the electrical side, the robot required isolation from all of the different power rails. Because there are so many sensors with different EMI signatures, the Vicor DCM™ helped minimize EMI and noise interference.
"The more we're able to reduce the burden on the battery, the longer runtime we will get," Stephens said. "So, power's always, always going to be a consideration. And, ultimately, all of this will help us achieve our vision for the company, which is that when an architect sits down to plan a commercial development or a mixed-use space, we're part of the security check list along with smoke detectors and fire suppression systems."
It appears there is a new sheriff in town, and the name is Knightscope.
Learn more about Knightscope an their self-driving (autonomous) security robots.
About Vicor
Vicor is the leader in high-performance power modules, enabling customer innovation with easy-to-deploy modular power system solutions for power delivery networks that provide the highest density and efficiency from source to point-of-load. We continuously advance the density, efficiency and power delivery capabilities of our power modules by staying on the forefront of distribution architectures, conversion topologies and packaging technology. Vicor serves customers in enterprise and high-performance computing, industrial equipment and automation, robotics, UAVs, electric vehicles and transportation, satellites, and aerospace and defense. www.vicorpower.com
Vicor, ChiP™ and DCM™ are registered trademarks of Vicor Corporation.
About Knightscope
Our mission is to make the United States of America the safest country on the planet. Here is how we are going to help achieve that mission one deployment at a time...Autonomously.
Knightscope robots are self-driving (autonomous) security robots. They drive around your campus without any human intervention contributing to the overall security mission. The robots gather and deliver unprecedented levels of data and actionable intelligence to your security team to assist in making smarter, safer and faster decisions. Collected data and analytics is accessible from anywhere in the world where you have access to the Internet.