Vicor's Power-on-Package Solution named product of the year by Electronic Products Magazine
For Immediate Release
Vicor's Power-on-Package Solution named product of the year by Electronic Products Magazine
Modular current multipliers garner top award for innovative advancement in power products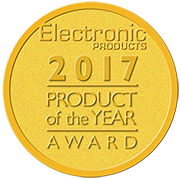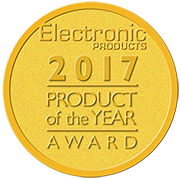 Andover, MA – January 9, 2018 – Vicor Corporation (NASDAQ: VICR) today announced that it was honored with an Electronic Products' Product of the Year Award for its Power-on-Package modular current multipliers (MCM) for high-performance, high-current, CPU/GPU/ASIC ("XPU") processors.
Vicor's was one of only 12 products to be selected in Electronic Products' designated award categories. The winning products were selected on the basis of innovative design, significant advancement in technology or application, and substantial achievement in price and performance. Vicor's Power-on-Package solution demonstrated breakthrough performance among power products by freeing up XPU socket pins and eliminating interconnect losses from the motherboard to the XPU, enabling higher current delivery for maximum XPU performance.
"Power-on-Package enables XPUs to achieve previously unattainable performance levels which are required for demanding applications such as Artificial Intelligence", said Robert Gendron, Corporate VP of Product Marketing at Vicor. "MCMs deliver higher peak and average currents to XPUs by eliminating traditional motherboard and socket power delivery limitations."
2017 marks the 42nd annual Electronic Products' "Product of the Year Awards," recognizing the best products in the industry. The 2017 Product of the Year Awards were announced in the January 2018 issue of Electronic Products with a cover feature and a brief description of each product. Additionally, the winning products appear on Electronic Products' website.
For more information about Vicor's Power-on-Package solution, please visit https://www.vicorpower.com/industries-computing/power-on-package-technology
About Vicor Corporation
Headquartered in Andover, Massachusetts, Vicor Corporation, manufactures and markets innovative, high-performance modular power components, from power modules to semiconductor-centric solutions, to enable customers to efficiently convert and manage power from the power source to the point of load.www.vicorpower.com
Power Component Design Methodology
Vicor's Power Component Design Methodology enables power system designers to reap all of the benefits of modular power component design – predictable component and system functionality and reliability, fast design cycles, and easy system configurability, re-configurability and scaling – while achieving system operating efficiency, power density and economy that rival the best alternative solutions. Utilizing Vicor's Power System Designer, engineers can select from an extensive portfolio of proven Vicor power components to architect, optimize and simulate their complete power system, all the way from their input sources to their points of load. This innovative approach to power system design delivers fast time-to-market and state-of-the-art performance while minimizing the possibility of last minute surprises and delays that so often occur with conventional or custom design methodologies.
Vicor and MCM are trademarks of Vicor Corporation.