Vicor releases first 20 Amp 24V Cool-Power ZVS Buck
Media Alert
Vicor releases first 20 Amp 24V Cool-Power ZVS Buck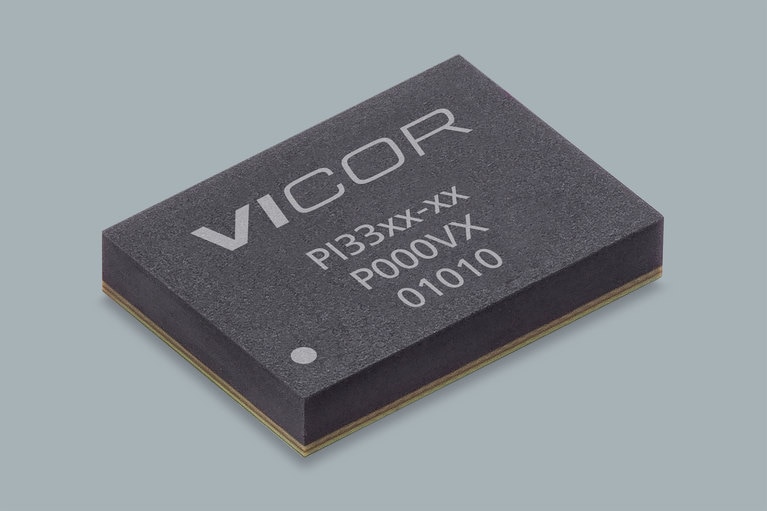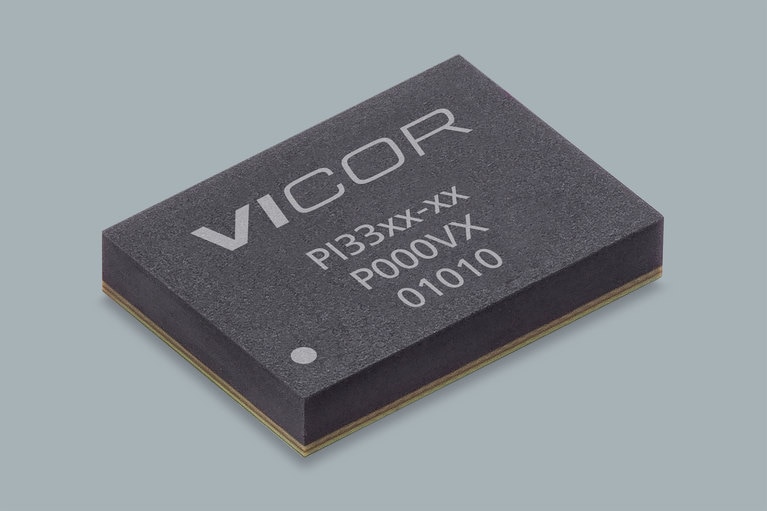 The Cool-Power ZVS Buck, PI3325-00-LGIZ, represents the highest current output ZVS buck to date for 24V/28V applications, providing a regulated 5V output at up to 20A. Packaged within a 10 x 14 x 2.5mm LGA SiP package, the PI3325-00-LGIZ addresses the continued need for high power density across a growing spectrum of applications. It also offers pin-for-pin compatibility to a 48V input version ZVS buck, the PI3525-00-LGIZ, enabling designs to be quickly ported from 24VIN capability to 48 VIN.
The PI3325-00-LGIZ requires only an output inductor and minimal passives for a complete, cost-effective, compact design that consumes less than 740mm2 of PCB real estate. Higher current is also achievable by parallel operation of the regulator. The PI3325-00-LGIZ represents one regulator within a new portfolio of higher current 24V ZVS bucks already or soon to be released.
Cool-Power ZVS 20A Buck Regulator Portfolio
| | | | | |
| --- | --- | --- | --- | --- |
| Part Number | Package | Input Voltage Range | Nominal Output Voltage | Current |
| PI3325-00-LGIZ | 10 x 14mm | 14 – 42V | 5.0V | 20A |
| PI3523-00-LGIZ | 10 x 14mm | 30 – 60V | 3.3V | 22A |
| PI3525-00-LGIZ | 10 x 14mm | 30 – 60V | 5.0V | 20A |
| PI3526-00-LGIZ | 10 x 14mm | 30 – 60V | 12V | 18A |
Table 1 – Item in green is a newly released product.
Vicor's Cool-Power ZVS regulators deliver more power at higher temperatures than competitive devices, without sacrificing power density or efficiency. Key attributes to the Cool-Power ZVS regulators' high performance include zero-voltage switching topology, high silicon integration, and high density LGA SiP packaging. These high performance regulators are also simple to use ensuring designs that achieve first pass design success.
Learn more about these products at:
https://www.vicorpower.com/new-products/cool-power-zvs-buck-regulator
About Vicor Corporation
Headquartered in Andover, Massachusetts, Vicor Corporation, manufactures and markets innovative, high-performance modular power components, from power modules to semiconductor-centric solutions, to enable customers to efficiently convert and manage power from the power source to the point of load.www.vicorpower.com
Power Component Design Methodology
Vicor's Power Component Design Methodology enables power system designers to reap all of the benefits of modular power component design – predictable component and system functionality and reliability, fast design cycles, and easy system configurability, re-configurability and scaling – while achieving system operating efficiency, power density and economy that rival the best alternative solutions. Utilizing Vicor's Power System Designer, engineers can select from an extensive portfolio of proven Vicor power components to architect, optimize and simulate their complete power system, all the way from their input sources to their points of load. This innovative approach to power system design delivers fast time-to-market and state-of-the-art performance while minimizing the possibility of last minute surprises and delays that so often occur with conventional or custom design methodologies.
Vicor and Cool-Power are trademarks of Vicor Corporation.