Innovating 60 years of tradition
Innovating 60 years of tradition
The annual British Touring Car Championship attracts the world's highest performance vehicles and drivers. In 2022, for the first time, a new hybrid engine developed by Cosworth Electronics will be added to the cars and used as a "tactical boost" by the drivers when rapid acceleration is required. The new hybrid engine features an innovative, ultra-lightweight, 48V lithium-ion-based battery pack and intelligent power management system designed by Delta Motorsport, who were subcontracted by Cosworth Electronics.
Customer challenge
Power delivery network challenges
Compact and lightweight
Reliable
Fast transient response
Delivering 48V of compact power
Delivering 48V of compact power
The new 48V lithium-ion-based battery pack has an innovative intelligent power management and a high-power-density DC-DC converter and regulation system. The battery pack powers the inverter-motor combination and also accepts regenerated power from it, while the high-power-density converter solution powers all the car's electrical circuits and devices. The level of power density and power management achieved by this architecture allows the alternator system to be removed, further improving weight, performance and reliability.
Why Vicor
High-power density
Modular
Reliable
The solution
The DC-DC converter power system uses four Vicor DCM3623 isolated, regulated DC-DC converter ChiP power modules to deliver a regulated 13.8V output from the battery pack with current levels up to 85 amps. Due to their low profile and small footprint, they are mounted in direct thermal contact with the micro-bore cooling plates that extend between the battery cells. This allows a reduced footprint without sacrificing power. Vicor modular power components excelled during initial battery pack tests, with no de-rating necessary and no voltage sags. Delta also uses the Vicor PI3105, a small 60W isolated converter for an uninterruptable power supply (UPS), which supplies power to the battery pack electronics in order to maintain the safety systems when isolated from the vehicle power supply.
The power delivery network
DCM3623T75H17C2T00 DC-DC converter
Input: 48V (36 – 75V)
Output: 15V (9.0 – 16.5V)
Power: Up to 320W
38.72 x 22.8 x 7.21mm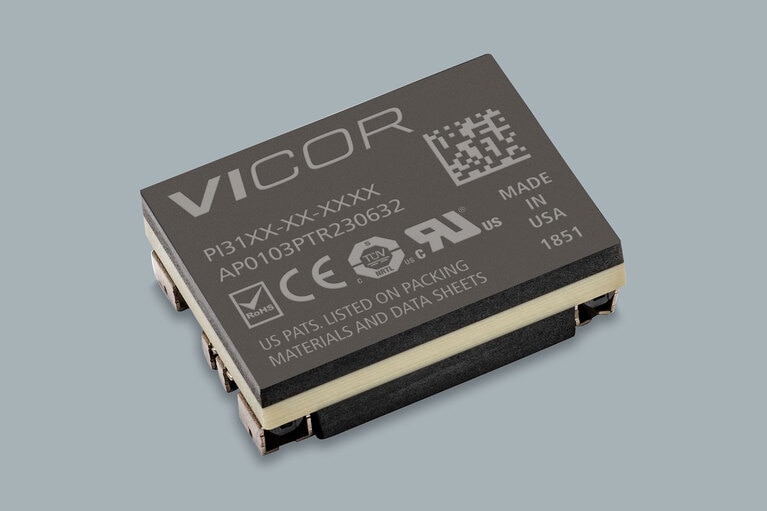 Input: 48V (36 – 75V)
Output: 3.3V, 12V, 18V
Current: Up to 18A
16.5 x 22.0 x 6.31mm