Stabilizing wireless connectivity
Stabilizing wireless connectivity
Anyone who has tried to access the Internet while traveling in a moving vehicle knows the frustration of signals dropping at the most inconvenient moments. Connectivity speeds and bandwidth are essential to browse and send messages, but also to stream music and video conference. Phasor's mission is to solve connectivity issues; to provide robust and reliable satellite connectivity in aeronautical, maritime, land mobile and defense applications.
Achieving robust and reliable connectivity is dependent on the performance of the antenna transmit and receive ASIC's, which rely on the current density and low noise of the ASIC's power delivery solution. The solution also had to be futureproof in accommodating lower ASIC operating voltages with faster transient response and improved power system efficiency in an ever-shrinking board area.
Power delivery network challenges
Power delivery network challenges
High current density
Low-profile components
Thermal management
Delivering high current at very low voltage
Delivering high current at very low voltage
An essential factor in the operational success of Phasor antennas is the ability of Vicor power delivery solutions to directly transform a 48V supply into a 1.5V load voltage at 65 to 80 amps which had presented a major challenge to Phasor's ASIC power system design. With no room for fans, Phasor was able to conduction cool the system due to the high efficiency of the modules. Additionally, because the Vicor VTM is a resonant converter it has very low noise when compared to a hard-switched converter, which minimized EMI issues.
Why Vicor
High current density
High efficiency
Modular and scalable 
The solution
Vicor Factorized Power Architecture (FPA) takes the DC-DC converter functions of regulation and conversion and factorizes them into the two constituent parts, enabling optimization of each function: a high-efficiency regulator coupled with a high-density voltage transformation current-multiplier for low-voltage high-current loads.
FPA solutions consist of a regulator module (PRM™) and a voltage transformation module (VTM™) also known as a current multiplier. These two devices work in partnership with each other. The PRM supplies a regulated output voltage, or 'factorized bus' from an unregulated input source. This bus feeds one or more VTMs, which transform the factorized bus voltage to the level needed by their load, while also providing isolation. So, a PRM-VTM chipset provides the full, regulated, isolated DC-DC converter function.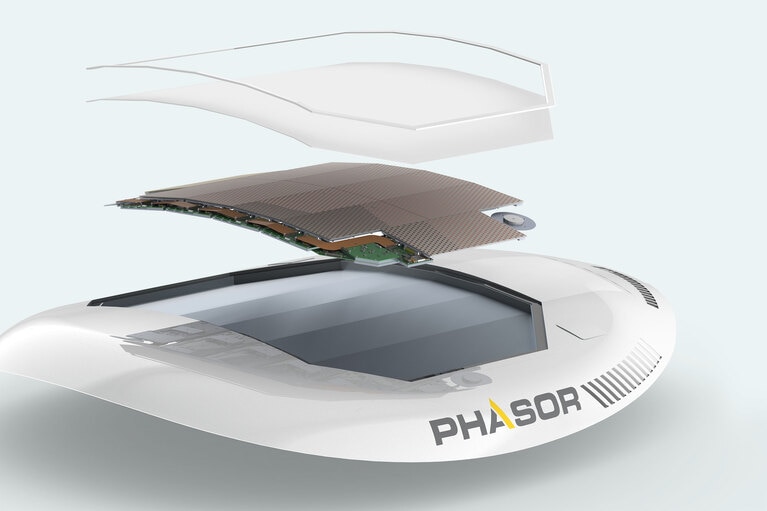 The power delivery network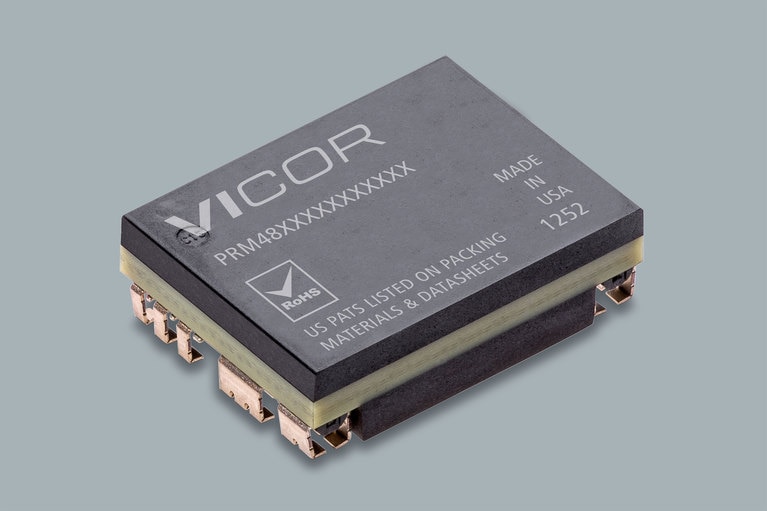 Input: 48V (38 – 55V)
Output: 20 – 55V
Current: Up to 5.21A
22.0 x 16.5 x 6.73mm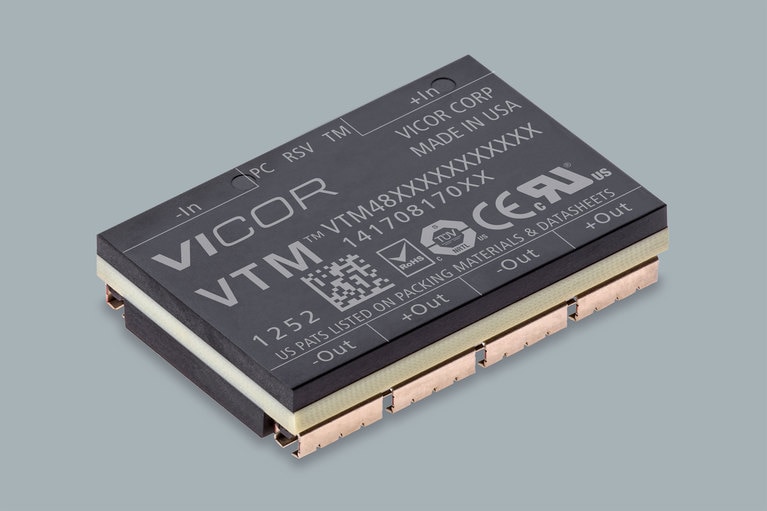 Input: 48V (26 – 55V)
Output: 1.0 – 2.29V
Current: Up to 80A
32.5 x 22.0 x 6.31mm
Input: 0 – 60V
Output: 0 – 55V
Current: Up to 115A
Peak efficiency: Up to 97%
As small as 22.83 x 8.52 x 4.9mm