Cost-effective, renewable energy and storage at sea
Cost-effective, renewable energy and storage at sea
Oceanographic exploration and research are inherently challenging because of unpredictable and often times risky environmental conditions. Power management is a critical component of any off-shore venture to ensure successful missions by delivering a robust power supply to essential systems and extend time at sea. Columbia Power Technologies, Inc. (C-Power), a global leader in wave energy systems based in Corvallis, Oregon, is helping to expand the marine economy by providing reliable, cost-effective energy generation and storage, as well as data and communication services for offshore applications. C-Power autonomous offshore power systems (AOPS) float in the ocean, capturing mechanical wave energy and converting it into usable power for a wide range of applications. The AOPS design, called SeaRAY, can generate 10W – 1MW from ocean waves. To achieve its goals on the lower end of the power spectrum, C-Power targeted a high power-to-weight ratio, requiring a very compact power delivery network.
Customer challenge
Power delivery network challenges
Ultra-wide 30:1 input range
Dynamically controllable output voltage
Compact size and weight
Overcoming ultra-wide and unpredictable ocean wave input
Overcoming ultra-wide and unpredictable ocean wave input
The Vicor Power Systems (VPS) design team, which specializes in developing customized power systems using advanced Vicor power modules took on the challenge of the demanding power conversion requirements of the SeaRAY. The team developed a highly dense and efficient solution that operated across the ultra-wide 30:1 input range (tumultuous storms to relative calm) and delivered the dynamic control of the output voltage caused by varying wave energy input while offering external override control of the output.
Advantages of a Vicor solution
Improved efficiency from 50% to over 90%
Stable, constant current from the highly variable power pulses
Minimal electromagnetic interference and noise
Delivering high efficiency, precise control and low EMI
High-efficiency Vicor power modules were essential to maintaining reliable SeaRay AOPS operation even in calm waters where onboard power must be conserved to ensure system uptime. Additionally, the power conversion topologies used in Vicor modules helped to minimize electromagnetic interference and noise onboard the AOPS that could otherwise compromise sensor measurement accuracy.
To achieve high efficiency VPS and C-Power used a BCM® fixed-ratio bus converter and PRM™ regulator modules to efficiently convert wave energy and provide controlled power. Prior to engaging Vicor, the SeaRAY design's conversion efficiency using discrete power components was around 50%. By incorporating the BCM and PRM high-density power modules, Vicor was able to increase efficiency up to 94%.
Converting power pulses into constant current
Stable, wide-input Vicor DC-DC converters gave C-Power much needed control as the SeaRAY converts pulsed ocean wave power into a varying DC bus while still producing a constant current at various power levels. The BCM and PRM architecture provides the stable, constant current from the highly variable power pulses coming from the SeaRAY's onboard generator, despite turbulent and unpredictable ocean waves.
"The ability to convert a very nasty power profile into a cost-effective, practical solution, and then condition that power and turn it into usable energy for a wide range of mobile and static payloads, is really on the leading edge," said C-Power CEO, Reenst Lesemann. "There's nobody else that's been able to do that yet."
The SeaRAY design makes remote, autonomous data communications possible by sending information from the ocean to the cloud. Using cellular networks and satellite communications to pass data in real-time between the cloud and the SeaRAY AOPS allows more and richer data to be collected and delivered more often.
The power delivery network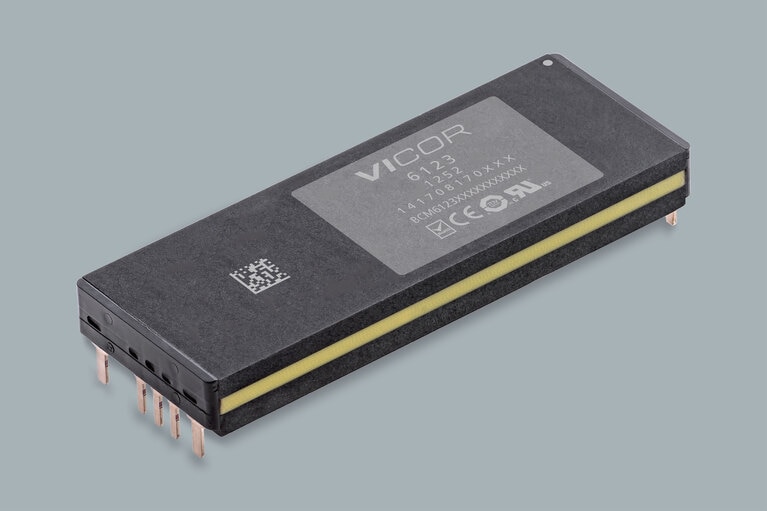 BCM6123TD1E5135T0R
bus converter
Input: 400V (260 – 410V)
Output: 50V (32.5 – 51.3V)
Current: Up to 35A
63.34 x 22.80 x 7.21mm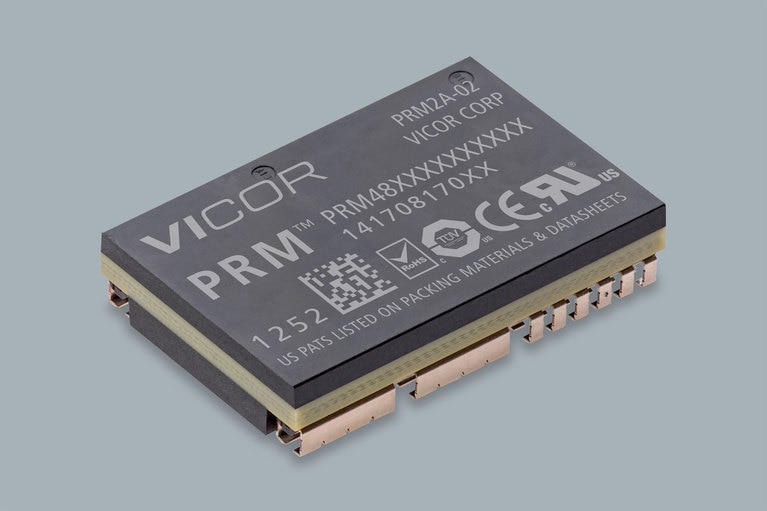 PRM48BF480T600A00
buck-boost regulator
Input: 45V (38 – 55V)
Output: 48V (5 – 55V)
Power: Up to 600W
32.5 x 22.0 x 6.73mm