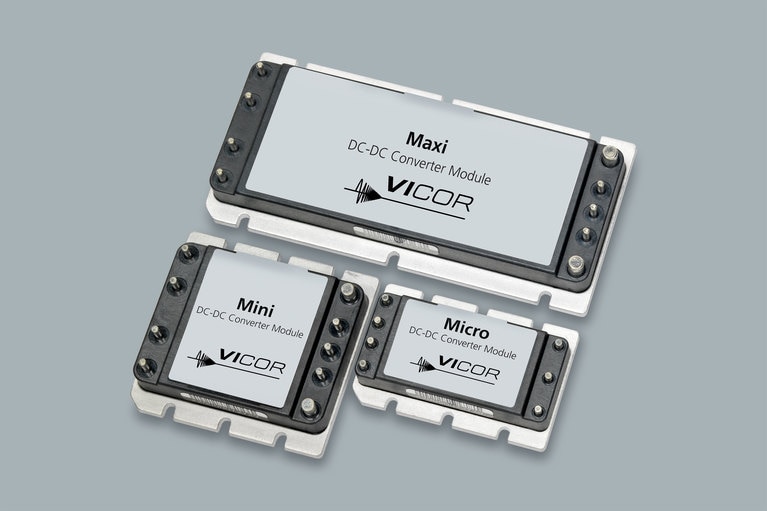 The DC-DC converter that established the "brick" standard
The Maxi, Mini, Micro family of DC-DC converters provides high power density and low noise, with advanced power processing in a robust package. The converters are compact, efficient and offer several input ranges, a variety of output voltages, enhanced output programmability, remote sense and single-wire paralleling for high power or for true redundant operation. The efficiency and packaging design simplify thermal management with base plate operation up to 100°C. The modules are available with five temperature grades, three base plate styles and six pin types. The Maxi, Mini and Micro product series technology allows for the automated generation of user-defined designs without the customary long lead times typical of custom designs.
Features and Benefits
Features and benefits
Broad selection of input voltage, output voltage, and power levels
High efficiency and power density in a brick package
Simplified "brick" mounting and thermal management
Robust packaging with operating temperature from –55 to 100°C
New configurations are not available. Please use the Power System Designer below to find a product for your project.
Select a Converter
Input (V)
Output (V)
Power (W)
Package

Add to cart / view details

Input (V):

24 (18-36)

Output (V):

3.3

Power (W):

50

Package:

Quarter Brick

View details

Input (V):

24 (18-36)

Output (V):

3.3

Power (W):

75

Package:

Quarter Brick

View details

Input (V):

24 (18-36)

Output (V):

5

Power (W):

50

Package:

Quarter Brick

View details

Input (V):

24 (18-36)

Output (V):

5

Power (W):

100

Package:

Quarter Brick

View details

Input (V):

24 (18-36)

Output (V):

5

Power (W):

125

Package:

Quarter Brick

View details

Input (V):

24 (18-36)

Output (V):

8

Power (W):

100

Package:

Quarter Brick

View details

Input (V):

24 (18-36)

Output (V):

12

Power (W):

50

Package:

Quarter Brick

View details

Input (V):

24 (18-36)

Output (V):

12

Power (W):

100

Package:

Quarter Brick

View details

Input (V):

24 (18-36)

Output (V):

12

Power (W):

150

Package:

Quarter Brick

View details

Input (V):

24 (18-36)

Output (V):

15

Power (W):

50

Package:

Quarter Brick

View details

Input (V):

24 (18-36)

Output (V):

15

Power (W):

100

Package:

Quarter Brick

View details

Input (V):

24 (18-36)

Output (V):

15

Power (W):

150

Package:

Quarter Brick

View details

Input (V):

24 (18-36)

Output (V):

24

Power (W):

50

Package:

Quarter Brick

View details

Input (V):

24 (18-36)

Output (V):

24

Power (W):

100

Package:

Quarter Brick

View details

Input (V):

24 (18-36)

Output (V):

24

Power (W):

150

Package:

Quarter Brick

View details

Input (V):

24 (18-36)

Output (V):

28

Power (W):

50

Package:

Quarter Brick

View details

Input (V):

24 (18-36)

Output (V):

28

Power (W):

100

Package:

Quarter Brick

View details

Input (V):

24 (18-36)

Output (V):

28

Power (W):

150

Package:

Quarter Brick

View details

Input (V):

24 (18-36)

Output (V):

36

Power (W):

50

Package:

Quarter Brick

View details

Input (V):

24 (18-36)

Output (V):

36

Power (W):

100

Package:

Quarter Brick

View details

Input (V):

24 (18-36)

Output (V):

48

Power (W):

50

Package:

Quarter Brick

View details

Input (V):

24 (18-36)

Output (V):

48

Power (W):

100

Package:

Quarter Brick

View details

Input (V):

24 (18-36)

Output (V):

48

Power (W):

150

Package:

Quarter Brick

View details

Input (V):

24 (18-36)

Output (V):

3.3

Power (W):

100

Package:

Half Brick

View details

Input (V):

24 (18-36)

Output (V):

3.3

Power (W):

150

Package:

Half Brick

View details

Input (V):

24 (18-36)

Output (V):

5

Power (W):

150

Package:

Half Brick

View details

Input (V):

24 (18-36)

Output (V):

5

Power (W):

200

Package:

Half Brick

View details

Input (V):

24 (18-36)

Output (V):

6.5

Power (W):

200

Package:

Half Brick

View details

Input (V):

24 (18-36)

Output (V):

8

Power (W):

200

Package:

Half Brick

View details

Input (V):

24 (18-36)

Output (V):

12

Power (W):

150

Package:

Half Brick

View details

Input (V):

24 (18-36)

Output (V):

12

Power (W):

200

Package:

Half Brick

View details

Input (V):

24 (18-36)

Output (V):

12

Power (W):

250

Package:

Half Brick

View details

Input (V):

24 (18-36)

Output (V):

15

Power (W):

150

Package:

Half Brick

View details

Input (V):

24 (18-36)

Output (V):

15

Power (W):

200

Package:

Half Brick

View details

Input (V):

24 (18-36)

Output (V):

24

Power (W):

150

Package:

Half Brick

View details

Input (V):

24 (18-36)

Output (V):

24

Power (W):

200

Package:

Half Brick

View details

Input (V):

24 (18-36)

Output (V):

24

Power (W):

250

Package:

Half Brick

View details

Input (V):

24 (18-36)

Output (V):

28

Power (W):

150

Package:

Half Brick

View details

Input (V):

24 (18-36)

Output (V):

28

Power (W):

200

Package:

Half Brick

View details

Input (V):

24 (18-36)

Output (V):

28

Power (W):

250

Package:

Half Brick

View details

Input (V):

24 (18-36)

Output (V):

36

Power (W):

150

Package:

Half Brick

View details

Input (V):

24 (18-36)

Output (V):

36

Power (W):

200

Package:

Half Brick

View details

Input (V):

24 (18-36)

Output (V):

48

Power (W):

150

Package:

Half Brick

View details

Input (V):

24 (18-36)

Output (V):

48

Power (W):

200

Package:

Half Brick

View details

Input (V):

24 (18-36)

Output (V):

48

Power (W):

250

Package:

Half Brick

View details

Input (V):

24 (18-36)

Output (V):

3.3

Power (W):

200

Package:

Full Brick

View details

Input (V):

24 (18-36)

Output (V):

3.3

Power (W):

264

Package:

Full Brick

View details

Input (V):

24 (18-36)

Output (V):

5

Power (W):

300

Package:

Full Brick

View details

Input (V):

24 (18-36)

Output (V):

5

Power (W):

400

Package:

Full Brick

View details

Input (V):

24 (18-36)

Output (V):

6.5

Power (W):

400

Package:

Full Brick

View details

Input (V):

24 (18-36)

Output (V):

8

Power (W):

300

Package:

Full Brick

View details

Input (V):

24 (18-36)

Output (V):

12

Power (W):

300

Package:

Full Brick

View details

Input (V):

24 (18-36)

Output (V):

12

Power (W):

400

Package:

Full Brick

View details

Input (V):

24 (18-36)

Output (V):

12

Power (W):

500

Package:

Full Brick

View details

Input (V):

24 (18-36)

Output (V):

15

Power (W):

300

Package:

Full Brick

View details

Input (V):

24 (18-36)

Output (V):

15

Power (W):

400

Package:

Full Brick

View details

Input (V):

24 (18-36)

Output (V):

24

Power (W):

300

Package:

Full Brick

View details

Input (V):

24 (18-36)

Output (V):

24

Power (W):

400

Package:

Full Brick

View details

Input (V):

24 (18-36)

Output (V):

24

Power (W):

500

Package:

Full Brick

View details

Input (V):

24 (18-36)

Output (V):

28

Power (W):

300

Package:

Full Brick

View details

Input (V):

24 (18-36)

Output (V):

28

Power (W):

400

Package:

Full Brick

View details

Input (V):

24 (18-36)

Output (V):

28

Power (W):

500

Package:

Full Brick

View details

Input (V):

24 (18-36)

Output (V):

36

Power (W):

300

Package:

Full Brick

View details

Input (V):

24 (18-36)

Output (V):

36

Power (W):

400

Package:

Full Brick

View details

Input (V):

24 (18-36)

Output (V):

48

Power (W):

300

Package:

Full Brick

View details

Input (V):

24 (18-36)

Output (V):

48

Power (W):

400

Package:

Full Brick

View details

Input (V):

28 (9-36)

Output (V):

3.3

Power (W):

50

Package:

Quarter Brick

View details

Input (V):

28 (9-36)

Output (V):

5

Power (W):

50

Package:

Quarter Brick

View details

Input (V):

28 (9-36)

Output (V):

12

Power (W):

100

Package:

Quarter Brick

View details

Input (V):

28 (9-36)

Output (V):

15

Power (W):

100

Package:

Quarter Brick

View details

Input (V):

28 (9-36)

Output (V):

24

Power (W):

100

Package:

Quarter Brick

View details

Input (V):

28 (9-36)

Output (V):

28

Power (W):

100

Package:

Quarter Brick

View details

Input (V):

28 (9-36)

Output (V):

36

Power (W):

100

Package:

Quarter Brick

View details

Input (V):

28 (9-36)

Output (V):

48

Power (W):

100

Package:

Quarter Brick

View details

Input (V):

28 (9-36)

Output (V):

3.3

Power (W):

75

Package:

Half Brick

View details

Input (V):

28 (9-36)

Output (V):

5

Power (W):

75

Package:

Half Brick

View details

Input (V):

28 (9-36)

Output (V):

12

Power (W):

125

Package:

Half Brick

View details

Input (V):

28 (9-36)

Output (V):

15

Power (W):

150

Package:

Half Brick

View details

Input (V):

28 (9-36)

Output (V):

24

Power (W):

150

Package:

Half Brick

View details

Input (V):

28 (9-36)

Output (V):

28

Power (W):

150

Package:

Half Brick

View details

Input (V):

28 (9-36)

Output (V):

36

Power (W):

150

Package:

Half Brick

View details

Input (V):

28 (9-36)

Output (V):

48

Power (W):

150

Package:

Half Brick

View details

Input (V):

28 (9-36)

Output (V):

3.3

Power (W):

150

Package:

Full Brick

View details

Input (V):

28 (9-36)

Output (V):

5

Power (W):

175

Package:

Full Brick

View details

Input (V):

28 (9-36)

Output (V):

6.5

Power (W):

200

Package:

Full Brick

View details

Input (V):

28 (9-36)

Output (V):

8

Power (W):

200

Package:

Full Brick

View details

Input (V):

28 (9-36)

Output (V):

12

Power (W):

200

Package:

Full Brick

View details

Input (V):

28 (9-36)

Output (V):

15

Power (W):

200

Package:

Full Brick

View details

Input (V):

28 (9-36)

Output (V):

24

Power (W):

200

Package:

Full Brick

View details

Input (V):

28 (9-36)

Output (V):

28

Power (W):

200

Package:

Full Brick

View details

Input (V):

28 (9-36)

Output (V):

36

Power (W):

200

Package:

Full Brick

View details

Input (V):

28 (9-36)

Output (V):

48

Power (W):

200

Package:

Full Brick

View details

Input (V):

48 (36-75)

Output (V):

2

Power (W):

50

Package:

Quarter Brick

View details

Input (V):

48 (36-75)

Output (V):

3.3

Power (W):

75

Package:

Quarter Brick

View details

Input (V):

48 (36-75)

Output (V):

3.3

Power (W):

50

Package:

Quarter Brick

View details

Input (V):

48 (36-75)

Output (V):

5

Power (W):

100

Package:

Quarter Brick

View details

Input (V):

48 (36-75)

Output (V):

5

Power (W):

75

Package:

Quarter Brick

View details

Input (V):

48 (36-75)

Output (V):

5

Power (W):

50

Package:

Quarter Brick

View details

Input (V):

48 (36-75)

Output (V):

8

Power (W):

100

Package:

Quarter Brick

View details

Input (V):

48 (36-75)

Output (V):

8

Power (W):

150

Package:

Quarter Brick

View details

Input (V):

48 (36-75)

Output (V):

12

Power (W):

150

Package:

Quarter Brick

View details

Input (V):

48 (36-75)

Output (V):

12

Power (W):

75

Package:

Quarter Brick

View details

Input (V):

48 (36-75)

Output (V):

15

Power (W):

150

Package:

Quarter Brick

View details

Input (V):

48 (36-75)

Output (V):

15

Power (W):

75

Package:

Quarter Brick

View details

Input (V):

48 (36-75)

Output (V):

24

Power (W):

150

Package:

Quarter Brick

View details

Input (V):

48 (36-75)

Output (V):

24

Power (W):

75

Package:

Quarter Brick

View details

Input (V):

48 (36-75)

Output (V):

28

Power (W):

150

Package:

Quarter Brick

View details

Input (V):

48 (36-75)

Output (V):

28

Power (W):

75

Package:

Quarter Brick

View details

Input (V):

48 (36-75)

Output (V):

36

Power (W):

150

Package:

Quarter Brick

View details

Input (V):

48 (36-75)

Output (V):

48

Power (W):

150

Package:

Quarter Brick

View details

Input (V):

48 (36-75)

Output (V):

48

Power (W):

75

Package:

Quarter Brick

View details

Input (V):

48 (36-75)

Output (V):

2

Power (W):

100

Package:

Half Brick

View details

Input (V):

48 (36-75)

Output (V):

3.3

Power (W):

150

Package:

Half Brick

View details

Input (V):

48 (36-75)

Output (V):

5

Power (W):

200

Package:

Half Brick

View details

Input (V):

48 (36-75)

Output (V):

12

Power (W):

250

Package:

Half Brick

View details

Input (V):

48 (36-75)

Output (V):

15

Power (W):

250

Package:

Half Brick

View details

Input (V):

48 (36-75)

Output (V):

24

Power (W):

250

Package:

Half Brick

View details

Input (V):

48 (36-75)

Output (V):

28

Power (W):

250

Package:

Half Brick

View details

Input (V):

48 (36-75)

Output (V):

36

Power (W):

250

Package:

Half Brick

View details

Input (V):

48 (36-75)

Output (V):

48

Power (W):

250

Package:

Half Brick

View details

Input (V):

48 (36-75)

Output (V):

48

Power (W):

300

Package:

Half Brick

View details

Input (V):

48 (36-75)

Output (V):

3.3

Power (W):

264

Package:

Full Brick

View details

Input (V):

48 (36-75)

Output (V):

5

Power (W):

400

Package:

Full Brick

View details

Input (V):

48 (36-75)

Output (V):

8

Power (W):

400

Package:

Full Brick

View details

Input (V):

48 (36-75)

Output (V):

12

Power (W):

500

Package:

Full Brick

View details

Input (V):

48 (36-75)

Output (V):

15

Power (W):

500

Package:

Full Brick

View details

Input (V):

48 (36-75)

Output (V):

24

Power (W):

500

Package:

Full Brick

View details

Input (V):

48 (36-75)

Output (V):

28

Power (W):

500

Package:

Full Brick

View details

Input (V):

48 (36-75)

Output (V):

36

Power (W):

500

Package:

Full Brick

View details

Input (V):

48 (36-75)

Output (V):

48

Power (W):

500

Package:

Full Brick

View details

Input (V):

72 (43-110)

Output (V):

3.3

Power (W):

75

Package:

Quarter Brick

View details

Input (V):

72 (43-110)

Output (V):

5

Power (W):

100

Package:

Quarter Brick

View details

Input (V):

72 (43-110)

Output (V):

8

Power (W):

100

Package:

Quarter Brick

View details

Input (V):

72 (43-110)

Output (V):

12

Power (W):

150

Package:

Quarter Brick

View details

Input (V):

72 (43-110)

Output (V):

15

Power (W):

150

Package:

Quarter Brick

View details

Input (V):

72 (43-110)

Output (V):

24

Power (W):

150

Package:

Quarter Brick

View details

Input (V):

72 (43-110)

Output (V):

28

Power (W):

150

Package:

Quarter Brick

View details

Input (V):

72 (43-110)

Output (V):

36

Power (W):

150

Package:

Quarter Brick

View details

Input (V):

72 (43-110)

Output (V):

48

Power (W):

150

Package:

Quarter Brick

View details

Input (V):

72 (43-110)

Output (V):

3.3

Power (W):

100

Package:

Half Brick

View details

Input (V):

72 (43-110)

Output (V):

5

Power (W):

150

Package:

Half Brick

View details

Input (V):

72 (43-110)

Output (V):

8

Power (W):

150

Package:

Half Brick

View details

Input (V):

72 (43-110)

Output (V):

12

Power (W):

250

Package:

Half Brick

View details

Input (V):

72 (43-110)

Output (V):

15

Power (W):

250

Package:

Half Brick

View details

Input (V):

72 (43-110)

Output (V):

24

Power (W):

250

Package:

Half Brick

View details

Input (V):

72 (43-110)

Output (V):

28

Power (W):

250

Package:

Half Brick

View details

Input (V):

72 (43-110)

Output (V):

36

Power (W):

250

Package:

Half Brick

View details

Input (V):

72 (43-110)

Output (V):

48

Power (W):

250

Package:

Half Brick

View details

Input (V):

72 (43-110)

Output (V):

3.3

Power (W):

264

Package:

Full Brick

View details

Input (V):

72 (43-110)

Output (V):

5

Power (W):

300

Package:

Full Brick

View details

Input (V):

72 (43-110)

Output (V):

8

Power (W):

300

Package:

Full Brick

View details

Input (V):

72 (43-110)

Output (V):

12

Power (W):

400

Package:

Full Brick

View details

Input (V):

72 (43-110)

Output (V):

15

Power (W):

400

Package:

Full Brick

View details

Input (V):

72 (43-110)

Output (V):

24

Power (W):

400

Package:

Full Brick

View details

Input (V):

72 (43-110)

Output (V):

28

Power (W):

400

Package:

Full Brick

View details

Input (V):

72 (43-110)

Output (V):

36

Power (W):

400

Package:

Full Brick

View details

Input (V):

72 (43-110)

Output (V):

48

Power (W):

400

Package:

Full Brick

View details

Input (V):

110 (66-154)

Output (V):

3.3

Power (W):

50

Package:

Quarter Brick

View details

Input (V):

110 (66-154)

Output (V):

5

Power (W):

75

Package:

Quarter Brick

View details

Input (V):

110 (66-154)

Output (V):

8

Power (W):

75

Package:

Quarter Brick

View details

Input (V):

110 (66-154)

Output (V):

12

Power (W):

100

Package:

Quarter Brick

View details

Input (V):

110 (66-154)

Output (V):

15

Power (W):

100

Package:

Quarter Brick

View details

Input (V):

110 (66-154)

Output (V):

24

Power (W):

100

Package:

Quarter Brick

View details

Input (V):

110 (66-154)

Output (V):

28

Power (W):

100

Package:

Quarter Brick

View details

Input (V):

110 (66-154)

Output (V):

36

Power (W):

100

Package:

Quarter Brick

View details

Input (V):

110 (66-154)

Output (V):

48

Power (W):

100

Package:

Quarter Brick

View details

Input (V):

110 (66-154)

Output (V):

48

Power (W):

150

Package:

Quarter Brick

View details

Input (V):

110 (66-154)

Output (V):

5

Power (W):

150

Package:

Half Brick

View details

Input (V):

110 (66-154)

Output (V):

5

Power (W):

100

Package:

Half Brick

View details

Input (V):

110 (66-154)

Output (V):

8

Power (W):

150

Package:

Half Brick

View details

Input (V):

110 (66-154)

Output (V):

12

Power (W):

200

Package:

Half Brick

View details

Input (V):

110 (66-154)

Output (V):

12

Power (W):

150

Package:

Half Brick

View details

Input (V):

110 (66-154)

Output (V):

15

Power (W):

200

Package:

Half Brick

View details

Input (V):

110 (66-154)

Output (V):

15

Power (W):

150

Package:

Half Brick

View details

Input (V):

110 (66-154)

Output (V):

24

Power (W):

200

Package:

Half Brick

View details

Input (V):

110 (66-154)

Output (V):

24

Power (W):

150

Package:

Half Brick

View details

Input (V):

110 (66-154)

Output (V):

28

Power (W):

200

Package:

Half Brick

View details

Input (V):

110 (66-154)

Output (V):

28

Power (W):

150

Package:

Half Brick

View details

Input (V):

110 (66-154)

Output (V):

36

Power (W):

200

Package:

Half Brick

View details

Input (V):

110 (66-154)

Output (V):

36

Power (W):

150

Package:

Half Brick

View details

Input (V):

110 (66-154)

Output (V):

48

Power (W):

200

Package:

Half Brick

View details

Input (V):

110 (66-154)

Output (V):

3.3

Power (W):

200

Package:

Full Brick

View details

Input (V):

110 (66-154)

Output (V):

3.3

Power (W):

150

Package:

Full Brick

View details

Input (V):

110 (66-154)

Output (V):

5

Power (W):

300

Package:

Full Brick

View details

Input (V):

110 (66-154)

Output (V):

5

Power (W):

200

Package:

Full Brick

View details

Input (V):

110 (66-154)

Output (V):

8

Power (W):

300

Package:

Full Brick

View details

Input (V):

110 (66-154)

Output (V):

8

Power (W):

200

Package:

Full Brick

View details

Input (V):

110 (66-154)

Output (V):

12

Power (W):

400

Package:

Full Brick

View details

Input (V):

110 (66-154)

Output (V):

12

Power (W):

300

Package:

Full Brick

View details

Input (V):

110 (66-154)

Output (V):

15

Power (W):

400

Package:

Full Brick

View details

Input (V):

110 (66-154)

Output (V):

15

Power (W):

300

Package:

Full Brick

View details

Input (V):

110 (66-154)

Output (V):

24

Power (W):

400

Package:

Full Brick

View details

Input (V):

110 (66-154)

Output (V):

24

Power (W):

300

Package:

Full Brick

View details

Input (V):

110 (66-154)

Output (V):

28

Power (W):

400

Package:

Full Brick

View details

Input (V):

110 (66-154)

Output (V):

28

Power (W):

300

Package:

Full Brick

View details

Input (V):

110 (66-154)

Output (V):

36

Power (W):

400

Package:

Full Brick

View details

Input (V):

110 (66-154)

Output (V):

36

Power (W):

300

Package:

Full Brick

View details

Input (V):

110 (66-154)

Output (V):

48

Power (W):

400

Package:

Full Brick

View details

Input (V):

110 (66-154)

Output (V):

48

Power (W):

300

Package:

Full Brick

View details

Input (V):

150 (100-200)

Output (V):

3.3

Power (W):

75

Package:

Quarter Brick

View details

Input (V):

150 (100-200)

Output (V):

5

Power (W):

100

Package:

Quarter Brick

View details

Input (V):

150 (100-200)

Output (V):

8

Power (W):

100

Package:

Quarter Brick

View details

Input (V):

150 (100-200)

Output (V):

12

Power (W):

150

Package:

Quarter Brick

View details

Input (V):

150 (100-200)

Output (V):

15

Power (W):

150

Package:

Quarter Brick

View details

Input (V):

150 (100-200)

Output (V):

24

Power (W):

150

Package:

Quarter Brick

View details

Input (V):

150 (100-200)

Output (V):

28

Power (W):

150

Package:

Quarter Brick

View details

Input (V):

150 (100-200)

Output (V):

36

Power (W):

150

Package:

Quarter Brick

View details

Input (V):

150 (100-200)

Output (V):

48

Power (W):

150

Package:

Quarter Brick

View details

Input (V):

150 (100-200)

Output (V):

3.3

Power (W):

150

Package:

Half Brick

View details

Input (V):

150 (100-200)

Output (V):

3.3

Power (W):

100

Package:

Half Brick

View details

Input (V):

150 (100-200)

Output (V):

5

Power (W):

200

Package:

Half Brick

View details

Input (V):

150 (100-200)

Output (V):

5

Power (W):

150

Package:

Half Brick

View details

Input (V):

150 (100-200)

Output (V):

8

Power (W):

200

Package:

Half Brick

View details

Input (V):

150 (100-200)

Output (V):

12

Power (W):

250

Package:

Half Brick

View details

Input (V):

150 (100-200)

Output (V):

12

Power (W):

150

Package:

Half Brick

View details

Input (V):

150 (100-200)

Output (V):

15

Power (W):

250

Package:

Half Brick

View details

Input (V):

150 (100-200)

Output (V):

15

Power (W):

150

Package:

Half Brick

View details

Input (V):

150 (100-200)

Output (V):

24

Power (W):

250

Package:

Half Brick

View details

Input (V):

150 (100-200)

Output (V):

24

Power (W):

150

Package:

Half Brick

View details

Input (V):

150 (100-200)

Output (V):

28

Power (W):

250

Package:

Half Brick

View details

Input (V):

150 (100-200)

Output (V):

28

Power (W):

150

Package:

Half Brick

View details

Input (V):

150 (100-200)

Output (V):

36

Power (W):

250

Package:

Half Brick

View details

Input (V):

150 (100-200)

Output (V):

36

Power (W):

150

Package:

Half Brick

View details

Input (V):

150 (100-200)

Output (V):

48

Power (W):

250

Package:

Half Brick

View details

Input (V):

150 (100-200)

Output (V):

48

Power (W):

150

Package:

Half Brick

View details

Input (V):

150 (100-200)

Output (V):

3.3

Power (W):

264

Package:

Full Brick

View details

Input (V):

150 (100-200)

Output (V):

3.3

Power (W):

200

Package:

Full Brick

View details

Input (V):

150 (100-200)

Output (V):

5

Power (W):

400

Package:

Full Brick

View details

Input (V):

150 (100-200)

Output (V):

5

Power (W):

300

Package:

Full Brick

View details

Input (V):

150 (100-200)

Output (V):

8

Power (W):

400

Package:

Full Brick

View details

Input (V):

150 (100-200)

Output (V):

8

Power (W):

300

Package:

Full Brick

View details

Input (V):

150 (100-200)

Output (V):

12

Power (W):

500

Package:

Full Brick

View details

Input (V):

150 (100-200)

Output (V):

12

Power (W):

400

Package:

Full Brick

View details

Input (V):

150 (100-200)

Output (V):

15

Power (W):

500

Package:

Full Brick

View details

Input (V):

150 (100-200)

Output (V):

15

Power (W):

400

Package:

Full Brick

View details

Input (V):

150 (100-200)

Output (V):

24

Power (W):

500

Package:

Full Brick

View details

Input (V):

150 (100-200)

Output (V):

24

Power (W):

400

Package:

Full Brick

View details

Input (V):

150 (100-200)

Output (V):

28

Power (W):

500

Package:

Full Brick

View details

Input (V):

150 (100-200)

Output (V):

28

Power (W):

400

Package:

Full Brick

View details

Input (V):

150 (100-200)

Output (V):

36

Power (W):

500

Package:

Full Brick

View details

Input (V):

150 (100-200)

Output (V):

36

Power (W):

400

Package:

Full Brick

View details

Input (V):

150 (100-200)

Output (V):

48

Power (W):

500

Package:

Full Brick

View details

Input (V):

150 (100-200)

Output (V):

48

Power (W):

400

Package:

Full Brick

View details

Input (V):

300 (180-375)

Output (V):

2

Power (W):

50

Package:

Quarter Brick

View details

Input (V):

300 (180-375)

Output (V):

3.3

Power (W):

75

Package:

Quarter Brick

View details

Input (V):

300 (180-375)

Output (V):

3.3

Power (W):

50

Package:

Quarter Brick

View details

Input (V):

300 (180-375)

Output (V):

5

Power (W):

100

Package:

Quarter Brick

View details

Input (V):

300 (180-375)

Output (V):

5

Power (W):

50

Package:

Quarter Brick

View details

Input (V):

300 (180-375)

Output (V):

8

Power (W):

100

Package:

Quarter Brick

View details

Input (V):

300 (180-375)

Output (V):

12

Power (W):

150

Package:

Quarter Brick

View details

Input (V):

300 (180-375)

Output (V):

12

Power (W):

75

Package:

Quarter Brick

View details

Input (V):

300 (180-375)

Output (V):

15

Power (W):

150

Package:

Quarter Brick

View details

Input (V):

300 (180-375)

Output (V):

15

Power (W):

75

Package:

Quarter Brick

View details

Input (V):

300 (180-375)

Output (V):

24

Power (W):

150

Package:

Quarter Brick

View details

Input (V):

300 (180-375)

Output (V):

24

Power (W):

75

Package:

Quarter Brick

View details

Input (V):

300 (180-375)

Output (V):

28

Power (W):

150

Package:

Quarter Brick

View details

Input (V):

300 (180-375)

Output (V):

28

Power (W):

75

Package:

Quarter Brick

View details

Input (V):

300 (180-375)

Output (V):

36

Power (W):

150

Package:

Quarter Brick

View details

Input (V):

300 (180-375)

Output (V):

36

Power (W):

75

Package:

Quarter Brick

View details

Input (V):

300 (180-375)

Output (V):

48

Power (W):

150

Package:

Quarter Brick

View details

Input (V):

300 (180-375)

Output (V):

48

Power (W):

75

Package:

Quarter Brick

View details

Input (V):

300 (180-375)

Output (V):

3.3

Power (W):

150

Package:

Half Brick

View details

Input (V):

300 (180-375)

Output (V):

3.3

Power (W):

100

Package:

Half Brick

View details

Input (V):

300 (180-375)

Output (V):

5

Power (W):

200

Package:

Half Brick

View details

Input (V):

300 (180-375)

Output (V):

5

Power (W):

150

Package:

Half Brick

View details

Input (V):

300 (180-375)

Output (V):

8

Power (W):

200

Package:

Half Brick

View details

Input (V):

300 (180-375)

Output (V):

12

Power (W):

250

Package:

Half Brick

View details

Input (V):

300 (180-375)

Output (V):

12

Power (W):

150

Package:

Half Brick

View details

Input (V):

300 (180-375)

Output (V):

15

Power (W):

250

Package:

Half Brick

View details

Input (V):

300 (180-375)

Output (V):

15

Power (W):

150

Package:

Half Brick

View details

Input (V):

300 (180-375)

Output (V):

24

Power (W):

250

Package:

Half Brick

View details

Input (V):

300 (180-375)

Output (V):

24

Power (W):

150

Package:

Half Brick

View details

Input (V):

300 (180-375)

Output (V):

28

Power (W):

250

Package:

Half Brick

View details

Input (V):

300 (180-375)

Output (V):

28

Power (W):

150

Package:

Half Brick

View details

Input (V):

300 (180-375)

Output (V):

36

Power (W):

250

Package:

Half Brick

View details

Input (V):

300 (180-375)

Output (V):

36

Power (W):

150

Package:

Half Brick

View details

Input (V):

300 (180-375)

Output (V):

48

Power (W):

250

Package:

Half Brick

View details

Input (V):

300 (180-375)

Output (V):

48

Power (W):

150

Package:

Half Brick

View details

Input (V):

300 (180-375)

Output (V):

2

Power (W):

160

Package:

Full Brick

View details

Input (V):

300 (180-375)

Output (V):

3.3

Power (W):

264

Package:

Full Brick

View details

Input (V):

300 (180-375)

Output (V):

3.3

Power (W):

200

Package:

Full Brick

View details

Input (V):

300 (180-375)

Output (V):

5

Power (W):

400

Package:

Full Brick

View details

Input (V):

300 (180-375)

Output (V):

5

Power (W):

300

Package:

Full Brick

View details

Input (V):

300 (180-375)

Output (V):

8

Power (W):

400

Package:

Full Brick

View details

Input (V):

300 (180-375)

Output (V):

8

Power (W):

300

Package:

Full Brick

View details

Input (V):

300 (180-375)

Output (V):

12

Power (W):

500

Package:

Full Brick

View details

Input (V):

300 (180-375)

Output (V):

12

Power (W):

400

Package:

Full Brick

View details

Input (V):

300 (180-375)

Output (V):

15

Power (W):

500

Package:

Full Brick

View details

Input (V):

300 (180-375)

Output (V):

15

Power (W):

400

Package:

Full Brick

View details

Input (V):

300 (180-375)

Output (V):

24

Power (W):

500

Package:

Full Brick

View details

Input (V):

300 (180-375)

Output (V):

24

Power (W):

400

Package:

Full Brick

View details

Input (V):

300 (180-375)

Output (V):

28

Power (W):

500

Package:

Full Brick

View details

Input (V):

300 (180-375)

Output (V):

28

Power (W):

400

Package:

Full Brick

View details

Input (V):

300 (180-375)

Output (V):

36

Power (W):

500

Package:

Full Brick

View details

Input (V):

300 (180-375)

Output (V):

36

Power (W):

400

Package:

Full Brick

View details

Input (V):

300 (180-375)

Output (V):

48

Power (W):

500

Package:

Full Brick

View details

Input (V):

300 (180-375)

Output (V):

48

Power (W):

400

Package:

Full Brick

View details

Input (V):

375 (250-425)

Output (V):

2

Power (W):

50

Package:

Quarter Brick

View details

Input (V):

375 (250-425)

Output (V):

3.3

Power (W):

75

Package:

Quarter Brick

View details

Input (V):

375 (250-425)

Output (V):

3.3

Power (W):

50

Package:

Quarter Brick

View details

Input (V):

375 (250-425)

Output (V):

5

Power (W):

100

Package:

Quarter Brick

View details

Input (V):

375 (250-425)

Output (V):

5

Power (W):

50

Package:

Quarter Brick

View details

Input (V):

375 (250-425)

Output (V):

8

Power (W):

100

Package:

Quarter Brick

View details

Input (V):

375 (250-425)

Output (V):

12

Power (W):

150

Package:

Quarter Brick

View details

Input (V):

375 (250-425)

Output (V):

12

Power (W):

75

Package:

Quarter Brick

View details

Input (V):

375 (250-425)

Output (V):

15

Power (W):

150

Package:

Quarter Brick

View details

Input (V):

375 (250-425)

Output (V):

15

Power (W):

75

Package:

Quarter Brick

View details

Input (V):

375 (250-425)

Output (V):

24

Power (W):

150

Package:

Quarter Brick

View details

Input (V):

375 (250-425)

Output (V):

24

Power (W):

75

Package:

Quarter Brick

View details

Input (V):

375 (250-425)

Output (V):

28

Power (W):

150

Package:

Quarter Brick

View details

Input (V):

375 (250-425)

Output (V):

28

Power (W):

75

Package:

Quarter Brick

View details

Input (V):

375 (250-425)

Output (V):

36

Power (W):

150

Package:

Quarter Brick

View details

Input (V):

375 (250-425)

Output (V):

36

Power (W):

75

Package:

Quarter Brick

View details

Input (V):

375 (250-425)

Output (V):

48

Power (W):

150

Package:

Quarter Brick

View details

Input (V):

375 (250-425)

Output (V):

48

Power (W):

75

Package:

Quarter Brick

View details

Input (V):

375 (250-425)

Output (V):

2

Power (W):

100

Package:

Half Brick

View details

Input (V):

375 (250-425)

Output (V):

3.3

Power (W):

150

Package:

Half Brick

View details

Input (V):

375 (250-425)

Output (V):

3.3

Power (W):

100

Package:

Half Brick

View details

Input (V):

375 (250-425)

Output (V):

5

Power (W):

200

Package:

Half Brick

View details

Input (V):

375 (250-425)

Output (V):

5

Power (W):

150

Package:

Half Brick

View details

Input (V):

375 (250-425)

Output (V):

8

Power (W):

200

Package:

Half Brick

View details

Input (V):

375 (250-425)

Output (V):

12

Power (W):

300

Package:

Half Brick

View details

Input (V):

375 (250-425)

Output (V):

12

Power (W):

200

Package:

Half Brick

View details

Input (V):

375 (250-425)

Output (V):

15

Power (W):

300

Package:

Half Brick

View details

Input (V):

375 (250-425)

Output (V):

15

Power (W):

200

Package:

Half Brick

View details

Input (V):

375 (250-425)

Output (V):

24

Power (W):

300

Package:

Half Brick

View details

Input (V):

375 (250-425)

Output (V):

24

Power (W):

200

Package:

Half Brick

View details

Input (V):

375 (250-425)

Output (V):

28

Power (W):

300

Package:

Half Brick

View details

Input (V):

375 (250-425)

Output (V):

28

Power (W):

200

Package:

Half Brick

View details

Input (V):

375 (250-425)

Output (V):

36

Power (W):

300

Package:

Half Brick

View details

Input (V):

375 (250-425)

Output (V):

36

Power (W):

200

Package:

Half Brick

View details

Input (V):

375 (250-425)

Output (V):

48

Power (W):

300

Package:

Half Brick

View details

Input (V):

375 (250-425)

Output (V):

48

Power (W):

200

Package:

Half Brick

View details

Input (V):

375 (250-425)

Output (V):

2

Power (W):

160

Package:

Full Brick

View details

Input (V):

375 (250-425)

Output (V):

3.3

Power (W):

264

Package:

Full Brick

View details

Input (V):

375 (250-425)

Output (V):

3.3

Power (W):

200

Package:

Full Brick

View details

Input (V):

375 (250-425)

Output (V):

5

Power (W):

400

Package:

Full Brick

View details

Input (V):

375 (250-425)

Output (V):

5

Power (W):

300

Package:

Full Brick

View details

Input (V):

375 (250-425)

Output (V):

8

Power (W):

400

Package:

Full Brick

View details

Input (V):

375 (250-425)

Output (V):

8

Power (W):

300

Package:

Full Brick

View details

Input (V):

375 (250-425)

Output (V):

12

Power (W):

600

Package:

Full Brick

View details

Input (V):

375 (250-425)

Output (V):

12

Power (W):

400

Package:

Full Brick

View details

Input (V):

375 (250-425)

Output (V):

15

Power (W):

600

Package:

Full Brick

View details

Input (V):

375 (250-425)

Output (V):

15

Power (W):

400

Package:

Full Brick

View details

Input (V):

375 (250-425)

Output (V):

24

Power (W):

600

Package:

Full Brick

View details

Input (V):

375 (250-425)

Output (V):

24

Power (W):

400

Package:

Full Brick

View details

Input (V):

375 (250-425)

Output (V):

28

Power (W):

600

Package:

Full Brick

View details

Input (V):

375 (250-425)

Output (V):

28

Power (W):

400

Package:

Full Brick

View details

Input (V):

375 (250-425)

Output (V):

32

Power (W):

600

Package:

Full Brick

View details

Input (V):

375 (250-425)

Output (V):

36

Power (W):

600

Package:

Full Brick

View details

Input (V):

375 (250-425)

Output (V):

36

Power (W):

500

Package:

Full Brick

View details

Input (V):

375 (250-425)

Output (V):

36

Power (W):

400

Package:

Full Brick

View details

Input (V):

375 (250-425)

Output (V):

48

Power (W):

600

Package:

Full Brick

View details

Input (V):

375 (250-425)

Output (V):

48

Power (W):

400

Package:

Full Brick

View details

Input (V):

375 (250-425)

Output (V):

54

Power (W):

600

Package:

Full Brick

View details
Power System Designer
Min output:
Minimum output:
Nom output:
Nominal output:
Max output:
Maximum output: